Question
Why are users seeing a 'Not Attempted, 100% Completed' in some of their completed assets?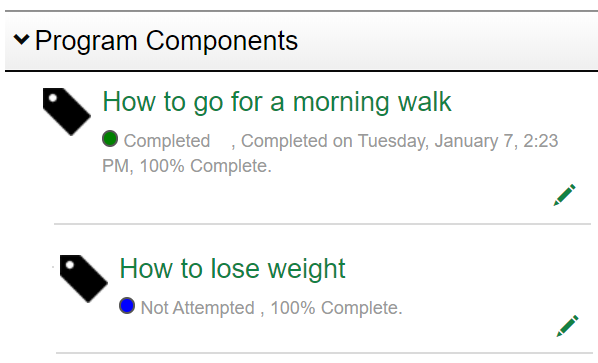 Answer
This is the intended behaviour of the CLS. When an asset has been completed, and an 'Import Learning History' is made to change the status of the enrolment (In this case, the enrolment is changed to "Not attempted" status) the system pushes all the assets to "Not attempted" status as well. The percentage will remain at 100% because the progress is stored in a different location.
The system doesn't support changing enrolments and/assets to "Not Attempted, 0%" once it is already completed.
________________________________________________________________________________________________________________
Steps
How to recreate a "Not Attempted, 100%" status in an asset
Pre-conditions:
Completed asset from a user

Import Learning History Template (Click here)
1. Fill up the data
ProgramID = Name of the asset
User ID = Username
Enrolment GUID = Can be found in the URL of the user's enrolment
Lesson Status = Enrolment Status (NotAttempted, Browsed, Incomplete, Completed, Passed, Failed, Pending, Declined or Cancelled)

2. Save the excel file in your local PC.
3. Import the excel file and click Import and email results
Navigate to the user's enrolment and notice that the asset has been changed to "Not Attempted, 100% Completed"