Question
What does "Your Connection is not Private" error message mean?
Answer
This error message is typically coming from local browser settings. Browsers have these security features/settings that will prevent users/machines from potentially being attacked. In this case, all we have to do is to clear HSTS (HTTP Strict Transport Security) cache from the browser.
HSTS stands for HTTP Strict Transport Security. It enables browsers to forge better connections via HTTPS and at the same time, limits HTTP connections that will inevitably be less secure. HSTS is advantageous as it prevents both cookies hijacking and protocol downgrade interference.
Source: https://www.ssl2buy.com/wiki/how-to-clear-hsts-settings-on-chrome-firefox-and-ie-browsers
Error message screenshot (Google Chrome)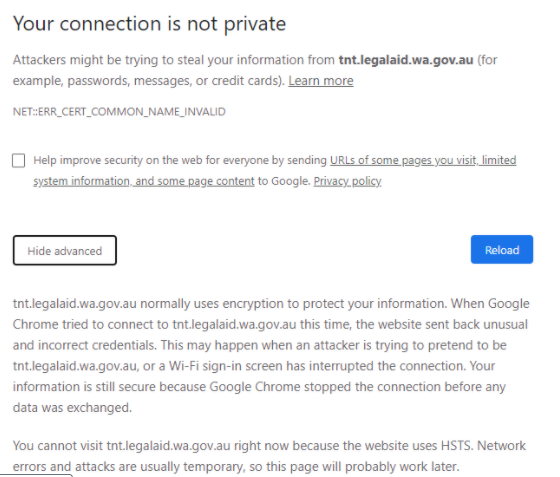 ________________________________________________________________________________________________________________
Steps
Click here for the complete steps on how to clear HSTS in Google Chrome, Firefox and Internet Explorer browsers.
Note: Since it's an important security improvement, HSTS is enabled by default on both Internet Explorer and Microsoft Edge. Although it's not recommended to disable HSTS inside Microsoft's browsers, you can turn the feature off for Internet Explorer.